Wednesday, January 25th @ POB Library
Event Type: Programs for Grades K – 4
Start Time: 4:15 PM
End Time: 5:30 PM
Description: Grades 3 and up. Calling all Minecraft Players! Come join our Minecraft server and play in "creative mode" while we race to build the biggest building. Participants must bring a laptop or iPad and have a minecraft account or a Minecraft App installed.
Location: Downstairs Meeting Room A&B
---
Price:
$3 per person (reservations are not required)
Location:
The Ward Melville Heritage Organization
97 Main St Educational & Cultural Center
Stony Brook, NY 11790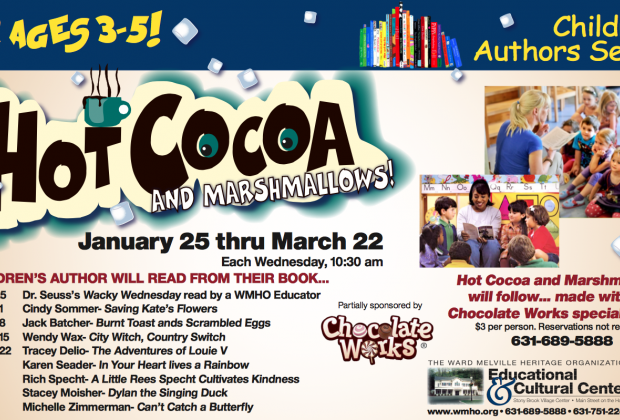 ---
Friday, January 27th @ POB Library
Event Type: Preschool (Ages 3 – 5)
Start Time: 7:00 PM
End Time: 8:00 PM
Description: Ages K and up with adult.Have fun with your family playing bingo. Snacks will be provided.
Location: Downstairs Meeting Room A&B
---

Shimmer, Shine, Catboy, and Gecko Appearance
All 3 PJ Masks crime fighting superheroes including Cat Boy, Shimmer, Shine and Gecko for a night filled with dancing, bouncing, and activities with the children! The children will be have a chance to dance, take one on one photos, dance some more, and limbo with these 4 loved…
Price:
2 & Up (1 adult incl.): $19.99 2 & Up PLUS (1 adult incl. + $10 game card): $24.99 Member (1 adult incl.): $4.99 Member PLUS (1 adult incl. + $10 game card): $9.99 1 Year Old (1 adult incl.): $9.99 Additional Adult: $4.99 Infant: FREE
Safari Adventure
1074 Pulaski Street Bldg 1, Suite 2
Riverhead, NY 11901
631-727-4386
---
Saturday, January 28th @ POB Library
Event Type: Infant / Toddler
Start Time: 10:00 AM
End Time: 10:45 AM
Description: Ages 12 months to 35 months with accompanying adult and 11:00 AM
to 11:45 AM for Ages 36 months to 5 years.  Enjoy musical warm-ups, obstacle courses, fun inflatables and other fine and gross motor skill activities. Older siblings are welcome but they must be registered. Please wear comfortable clothings
Location: Downstairs Meeting Room A&B
---
The Snow Queen  @ John W. Engeman Theater, 250 Main Street, Northport, NY 11768
Email | Box Office: 631-261-2900 | Administration: 631-261-9700 | Fax: 631-261-2963
Based on the beloved Hans Christian Anderson story, kids of all ages will be delighted by THE SNOW QUEEN, a heartwarming musical tale of friendship, love, and coming of age.
Join Gerda as she sets out to save the boy next door – her best friend Kai – from the icy palace of the Snow Queen.  Along the way Gerda encounters robbers, witches, royalty and a talking crow as her adventures take her closer to saving her friend.
---
Let's Build a Snowman Craft Saturday @ Lakeshore Learning
---
---
Sunday, January 29th
Berenstain Bears Live! @ Landmark on Main Street-232 Main Street
Port Washington – 11050 (Map)
Tel: 516-767-1384
Visit Website:
Website
.
Date & Time: 3:00 PM  Sun, Jan 29, 2017   Cost:    $20 – $23